12 / 16 (Sunday) Hayabusa X'mas Song song 2018 holding decision !!
12 / 16 (Sunday) Hayabusa X'mas Song song 2018 holding decision !!
2018/09/02
Hayabusa X'mas Kayo Show 2018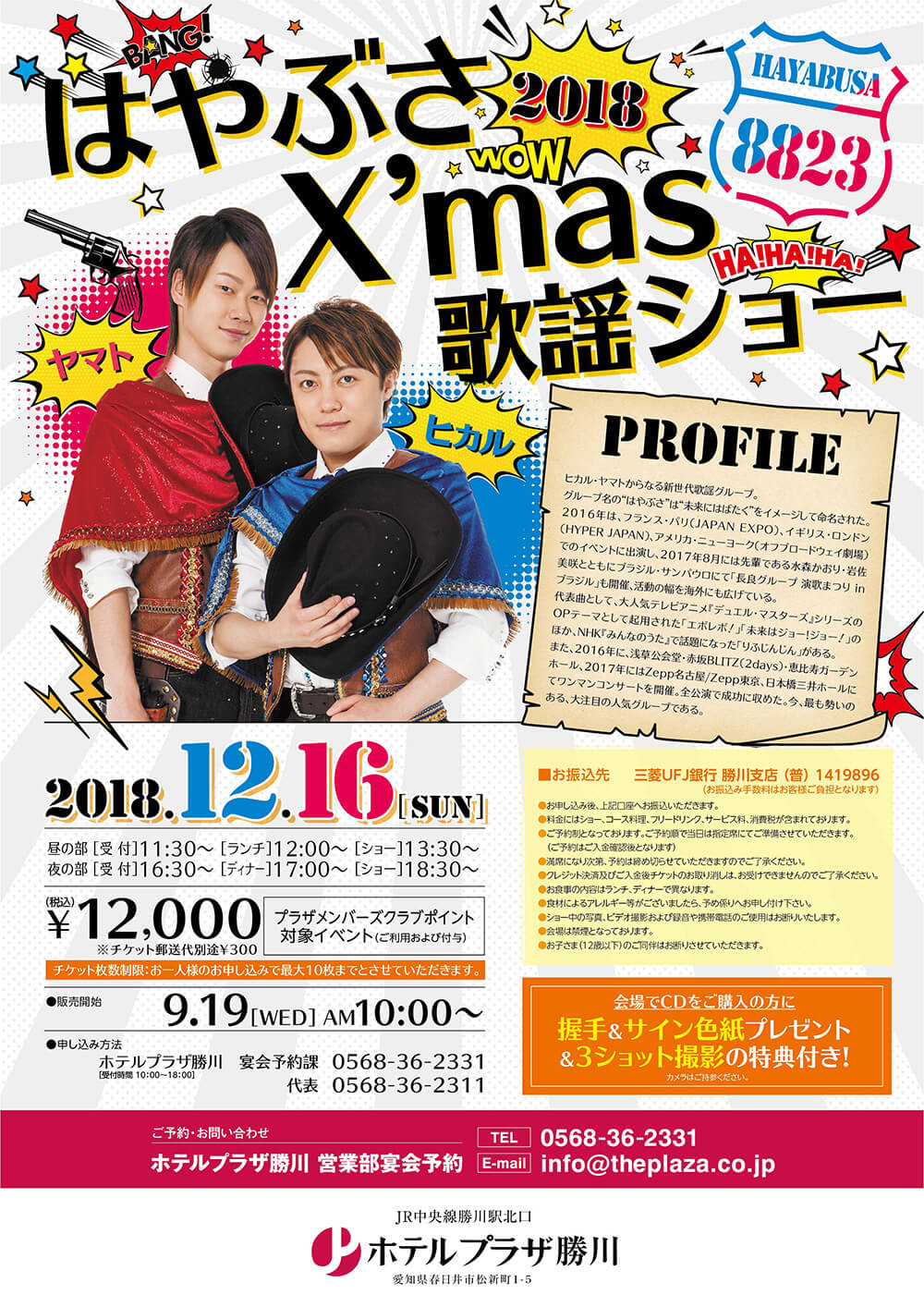 [Schedule] 2018 year 12 month 16 date (day)
Day section [Reception] 11: 30 [Lunch] 12: 00 [show] 13: 30
Night part [Reception] 16: 30 [Lunch] 17: 00 [show] 18: 30
【Place】 Hotel Plaza Katsukawa (Aichi Prefecture Kasugai City Matsushima-cho 1-5)
[Price] 12,000 yen (tax included) * Ticket postage fee separately 300 yen
Plaza Members Club Point Target Event (Usage and Grant)
Limit on the number of tickets: Up to 10 sheets will be accepted per person's application.
[Sales start] 9 month 19 day (Wednesday) AM XUM: 10
Shake hands to people who purchase CDs at the venue & signs Colored paper gifts & 3 shot shooting benefits!
※ Please bring your camera.
● Application method
Hotel Plaza Katsukawa
Banquet Reservation Section 0568-36-2331
Representative 0568-36-2311
■ Transfer destination
Mitsubishi UFJ Bank Katsukawa Branch (ordinary) 1419896
(The transfer fee will be borne by the customer)
● After you apply, we will transfer to the above account.
● Rates include show, course meal, free drink, service charge, consumption tax.
● It is a reservation system. We will prepare at the designated seat on that day in order of reservation. (The reservation will be after payment is confirmed)
● As soon as we are full, we will close the reservation, so please understand.
● Cancellation and cancellation of tickets after payment can not be accepted, please understand.
● The content of meals varies for lunch and dinner.
● If you have any allergies due to ingredients, please tell us in advance.
● We refuse photographs during the show, video shooting and recording, and use of mobile phones.
● The venue is no smoking.
● We will refuse accompanying children (12 and under).
Other latest articles